The Main + Stone Project is a mixed use (multi-family residential and retail) project in a highly visible part of Greenville, South Carolina. Its location and end use made it a high profile signature project for the newly developing downtown.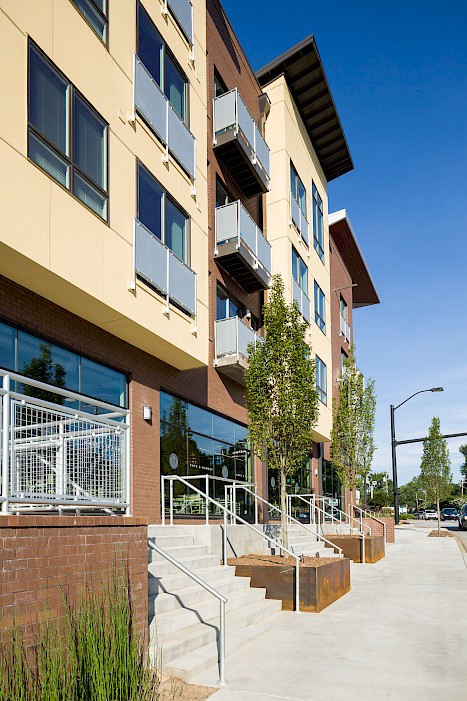 The owner and Project Architect Anthony Tiberia of McMillan Pazdan Smith Architecture decided from the outset they wanted some specific design criteria for the balcony railings:
· A unique railing in lieu of the standard vertical picket railing that contributes to the overall design aesthetic.
· A railing that provides both privacy for the residents and conceals elements on the balcony floors from public view.
· A durable railing that still looks good 10 years out, without the normal corrosion, maintenance and painting that is required with welded fabricated railings.
To meet this criteria, Hollaender's Interna-Rail® component aluminum railing system with perforated steel "hemless" infill panels was specified. The infill panels are electro-coated, then powder coated, giving them a dual corrosion resistant coating.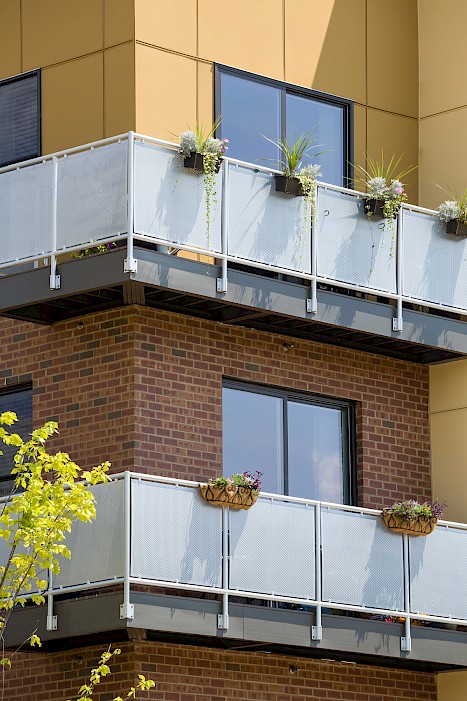 Location:

Greenville, South Carolina

Architect:

McMillan Pazdan Smith Architecture

Railing:

Infill:

Finish:

Clear anodized finish railing with e-coated and powdercoated 2x2" steel wire mesh and "no frame" perforated infill panels
Project Architect Anthony Tiberia stated:
"As a signature project for downtown Greenville, we needed a railing system that would meet our aesthetic and performance requirements. Our expectations were met by Hollaender, and we're pleased with their overall contribution to the project."
Drawings
Interna-Rail® 2-Line with Perforated Infill Panels
Interna-Rail® 2-Line with Wire Mesh
Interna-Rail® Sloping Handrail
Interna-Rail® with Metal Infill Panels BIM
Interna-Rail® with Perforated Infill Panels
Interna-Rail® with Square Wire Mesh Infill Panels